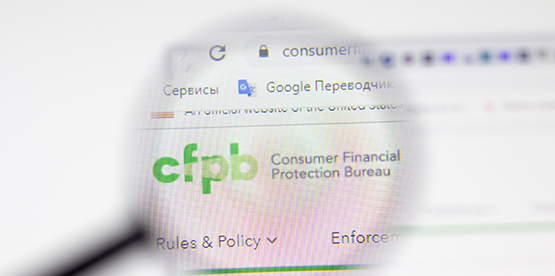 A&B Abstract:
The Consumer Financial Protection Bureau (CFPB) recently announced that it issued a final preemption determination concluding that certain state disclosure laws applicable to commercial financing transactions in California, New York, Utah, and Virginia are not preempted by the federal Truth in Lending Act (TILA). As covered in a previous post, we note that the California, Utah, and Virginia laws have already gone into effect, and New York's is set to become effective on August 1, 2023.
State Commercial Lending Laws
After examining the state disclosure laws in California, New York, Utah, and Virginia, the CFPB recently affirmed that there is no conflict with TILA because the state laws extend disclosure protections to businesses seeking commercial financing, which are beyond the scope of TILA's statutory consumer credit protections.  Specifically, the CFPB determined that TILA only preempts state laws under conflict preemption, which the CFPB interprets to mean that TILA preempts state laws only if they are "inconsistent" with TILA.
In California, New York, and Utah, state laws require lenders to issue disclosures in certain commercial financing transactions, the purpose of which is generally defined to mean primarily for other than personal, family, or household purposes.  This is in contrast to TILA's application to consumer credit, which is extended primarily for personal, family, or household purposes.  In December 2022, the CFPB made a preliminary determination that New York's commercial financing disclosure law was not preempted by TILA because the state law regulates commercial financial transactions rather than consumer-purpose transactions.
In Virginia, disclosures are required in connection with "sales-based financing," which is defined generally as a transaction in which the financing is repaid by the recipient based on a percentage of sales or revenue.  "Recipient" means a person whose principal place of business is in Virginia and that applies for sales-based financing and is made a specific offer of sales-based financing by a sales-based financing provider.  Based on these definitions, it appears that the Virginia law would not apply to a consumer credit transaction.  However, the CFPB generally noted that, to the extent state law could apply to a consumer credit transaction, there would still be no inconsistency with TILA.
Accordingly, the CFPB found that the four states' commercial financing disclosure laws are not inconsistent with and, therefore, not preempted by the federal TILA.
Takeaway
As states continue to propose and enact similar laws requiring disclosures in commercial financing transactions, an argument that federal law preempts such state laws is unlikely to succeed.  Thus, companies should monitor ongoing state regulatory trends in commercial financing transactions to ensure compliance with the consumer-style disclosure requirements that may apply.